Adler & Stachenfeld LLP Announces Election of Three New Partners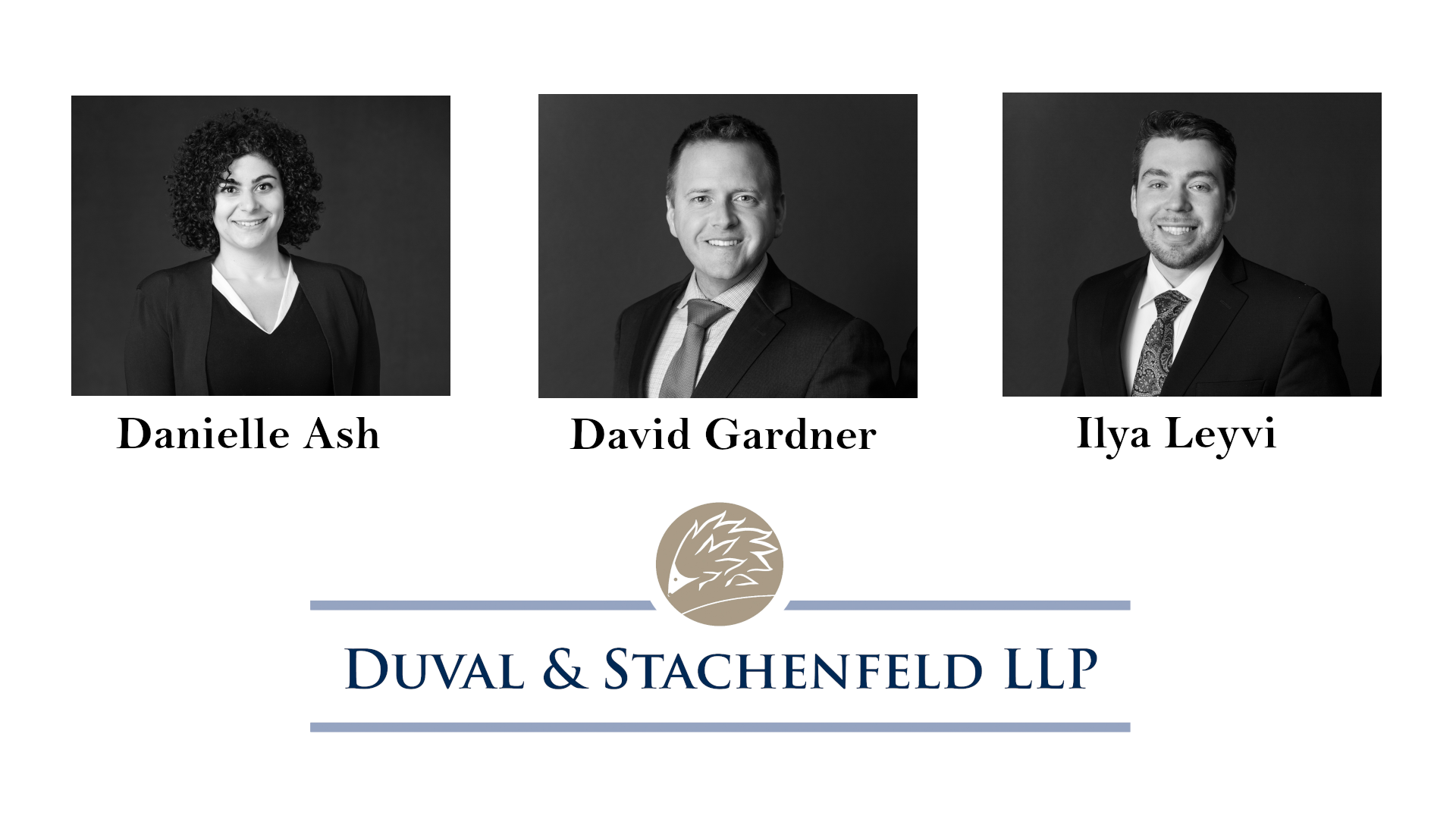 Adler & Stachenfeld LLP – The Pure Play in Real Estate Law – is thrilled to announce that Danielle Ash, David Gardner and Ilya Leyvi have been elected to the Firm's partnership effective January 1, 2021.
This class of new partners represents the next generation in the Firm's industry leading real estate group. Managing partner, Terri Adler, stated, "I couldn't be happier to have Danielle, David and Ilya as partners at the firm. Each one has continuously shown their talent in delivering stellar legal work, providing value to clients on the business side, and carving out niches for themselves within the industry. In addition, they are excellent firm citizens and exhibit the qualities that make them leaders not only in the legal industry but within the firm. Congratulations!"
Ms. Ash joined the Firm in 2015 as an associate after beginning her career at Paul, Weiss, Rifkind, Wharton & Garrison LLP. She has spent her tenure becoming an integral part of our various specialty practice groups, including Opportunity Zones, Fund Formations, Real Estate Finance, and The Bronx. She has expertise in a wide array of real estate matters, including joint ventures, construction and permanent financing, multi-stakeholder negotiations and development projects, and complex fund formations, and regularly represents borrowers, lenders, sponsors, institutional investors, and developers in New York City and throughout the country. She has been recognized by Real Estate Weekly as one of the Leading Ladies in Real Estate 2019 and by Super Lawyers as a New York Metro Rising Star in Real Estate (2018-2020). She is actively involved in many firm initiatives, including the Diversity, Equity and Inclusion Committee, the Pro Bono Committee and the Recruiting Committee. Outside the firm, she is on the Board of the New York Chapter of Women in Housing and Finance, an industry group that supports women in community development, affordable housing and real estate finance, and serves on the Associate Board of WHEDCo, an affordable housing and economic development non-profit in the South Bronx.
Mr. Leyvi joined the Firm in 2013 as an associate. He has become a leader of the Firm's flourishing Real Estate Finance Practice and regularly represents lenders and borrowers on bridge loans, construction loans, mezzanine loans, loan participations and syndications, workouts and preferred equity investments involving a wide variety of properties, including hotel, retail, office, industrial, self-storage, condominiums and multi-family assets. Mr. Leyvi specializes in complex financing transactions and is the first call for some of the top lenders and developers in the industry on their most important transactions. He has earned a reputation as a trusted legal advisor in the real estate finance sector and has been recognized by Super Lawyers as a New York Metro Rising Star in Real Estate (2017-2020).
Mr. Gardner joined the Firm in 2013 as an associate from the real estate department of Cooley LLP. Mr. Gardner focuses on joint venture agreements (both capital and sponsor-side representation), financing (both borrower and lender-side representation), preferred equity arrangements, acquisitions and dispositions. More recently, Mr. Gardner has been involved in the origination of PACE (Property Assessed Clean Energy) loans, as well as the creation of funds and other corporate investment vehicles, including under the Qualified Opportunity Zone program. His clients have included private equity funds, insurance companies, family offices, developers, operators, homebuilders, banks, and other institutional investors. He is a graduate of The University of Pennsylvania Carey Law School.
Bruce Stachenfeld, the chairman of Adler & Stachenfeld, said: "We are the Pure Play in Real Estate Law. Danielle, David and Ilya represent exactly the types of attorneys I dreamed of attracting when I founded the Firm in 1997. They have each carved out power niches within the real estate industry that attract clients due to the wealth of knowledge and enormous value they provide. Lastly, they all focus on our core mission of growing our clients businesses which is the special sauce for how we have built lasting relationships with our client base. I am so happy for the three new partners – they deserve every bit of their success."